SIGNS OF A STRESSED HORSE
The symptoms and behaviors of a nervous horse can be frustrating and make it difficult for a horse and rider to connect and accomplish important goals together. Pay attention to the following signs:
Sweating and Trembling

Weight Loss/Loss of Appetite

Grinding Teeth, Chewing, Biting

Fast Pulse and Respiration

Gastric Ulcers and Colic

Loose Manure or Diarrhea

Pacing, Pawing, Rearing, Bolting
5 TIPS TO EASE EQUINE STRESS
We asked Aimee Williams, a horse trainer from Stephenville, Texas, to share some insight about what typically causes anxiety in horses and how we can help them feel more calm, relaxed, and focused.
Treat Digestive Disorders

Get Back to Basics

Stay Calm as a Rider

Keep Your Horse Moving

Bring Comforts of Home on the Road
DAILY GOLD
STRESS RELIEF FOR YOUR HORSE
Daily Gold is 100% natural bentonite clay, which helps improve equine ulcers and other equine digestive issues.
It's a lot of stress when a horse that's been in the pasture suddenly comes to me for training. That's where Redmond comes in. I always start my horses on Daily Gold, and we never experience issues with colic or ulcers.
DIGESTIVE AID
Do your horses struggle with gastric ulcers, lack of appetite, or diarrhea? Daily Gold naturally and effectively balances pH, healing ulcers and soothing digestive ailments in horses to help them feel healthier and happier.
CALMING SOLUTION
Frustrated with fighting anxious, uncooperative horses? A horse that's dealing with digestive discomfort is a stressed horse. Daily Gold delivers relief, helping horses feel calm, relaxed, and more willing to connect with you.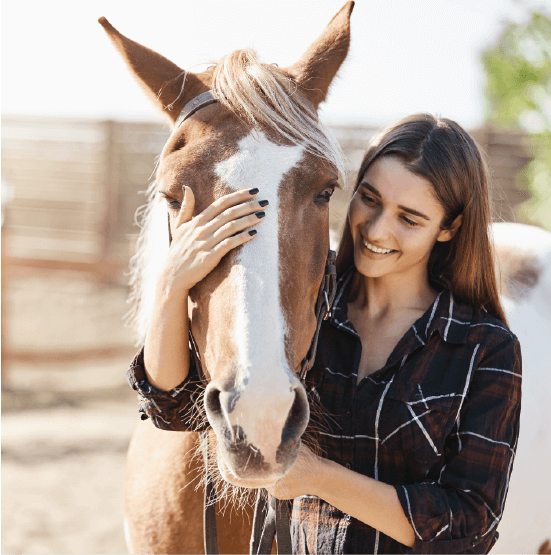 The smallest change can make a huge difference in a horse. Daily Gold makes the difference in mine.
HELPS WITH FOCUS
Do your horses struggle to concentrate during training? Daily Gold resolves digestive issues that distract horses, helping them stay focused so you can accomplish more together during training sessions.