WHAT CAN CAUSE DIARRHEA?
An important function of the equine large colon is to regulate the amount of water absorbed in the body. If you're noticing excess water in your horse's manure, it may stem from one of these common instigators of intestinal upset.
Stress

Poor Oral Health

Internal Parasites

Diet

Medications

Sand
ADVICE FROM DR. JESSICA
As a veterinarian, I routinely recommend Redmond Daily Gold Stress Relief to my clients as an effective equine digestive support. It's an excellent first line of defense to treat loose manure or aid in helping your horse recover from diarrhea. The naturally-occurring trace minerals in Daily Gold also replace critical electrolytes lost through diarrhea.
For remedial use, feed two scoops of Daily Gold twice daily for an average-sized horse. If after seven days your horse still has loose manure or you notice an increase in loose manure, or if at any point your horse loses their appetite or acts lethargic, contact your veterinarian immediately.
Jessica Huntington, DMV
Stephenville, Texas
DAILY GOLD
STRESS RELIEF FOR YOUR HORSE
Daily Gold is 100% natural bentonite clay, which helps improve equine ulcers and other equine digestive issues.
It's a lot of stress when a horse that's been in the pasture suddenly comes to me for training. That's where Redmond comes in. I always start my horses on Daily Gold, and we never experience issues with colic or ulcers.
DIGESTIVE AID
Do your horses struggle with gastric ulcers, lack of appetite, or diarrhea? Daily Gold naturally and effectively balances pH, healing ulcers and soothing digestive ailments in horses to help them feel healthier and happier.
CALMING SOLUTION
Frustrated with fighting anxious, uncooperative horses? A horse that's dealing with digestive discomfort is a stressed horse. Daily Gold delivers relief, helping horses feel calm, relaxed, and more willing to connect with you.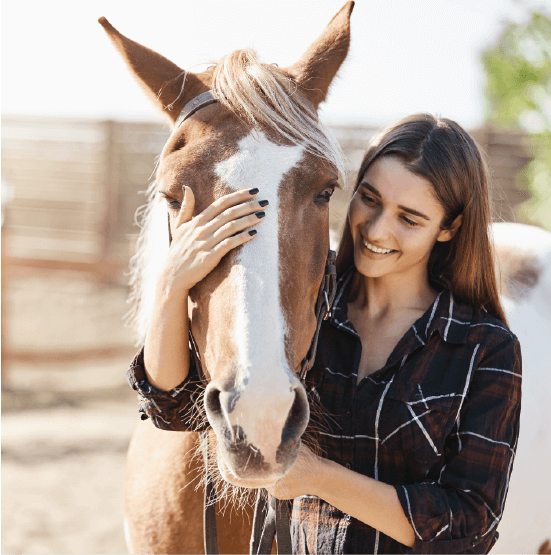 The smallest change can make a huge difference in a horse. Daily Gold makes the difference in mine.
HELPS WITH FOCUS
Do your horses struggle to concentrate during training? Daily Gold resolves digestive issues that distract horses, helping them stay focused so you can accomplish more together during training sessions.