ARE ANXIETY AND STRESS CAUSING PROBLEMS FOR YOUR HORSE?
"For a calm, cooperative and laser-focused horse, I recommend Redmond Daily Gold Stress Relief Syringe. Redmond's performance paste eases stress naturally, without artificially enhancing or taking away your horse's natural drive."
DR JESSICA HUNTINGTON, DVM
BEST STRESS RELIEF SUPPLEMENT FOR HORSES
Daily Gold is 100% natural bentonite clay, which helps improve equine ulcers and other equine digestive issues.

DELIVER KEY MINERALS
This completely natural montmorillonite clay contains balanced trace minerals necessary for optimal health.

SIMPLE SOLUTION
Our paste for horses is 100% natural and simple. Just water, hydrated bentonite clay, and organic peppermint oil. That's it.

PROVIDE STRESS RELIEF
Helps horses feel calm, relaxed, and ready to focus.

QUICK RELIEF FOR STOMACH UPSET
Buffers stomach acid, repairs equine ulcers, and soothes gastric upset.

AID IN DIGESTIVE HEALTH
Quickly eliminates diarrhea and colic.

TASTES GOOD
Horses love the peppermint taste!
LOOKING FOR A SOLUTION THAT
WILL NOT TEST?
Our horse syringe will not test. That is because we believe in keeping it natural—with absolutely no chemicals or calming drugs to either artificially enhance or take away the competitive edge from your horse's performance. Stressed horses will find natural relief and focus with our pre-race paste. Read" How to Calm A Nervous Horse" to get trainer tips on treating anxiety in horses and how Daily Gold can help.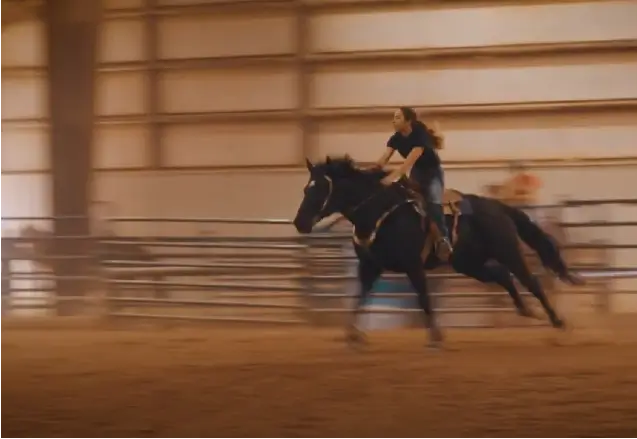 A SUPPLEMENT FOR HORSES THAT ARE
STRESSED, TRAVELING, & DEHYDRATED
Horses need electrolytes after exercise or profuse sweating, but can also benefit from an electrolyte in other situations, including weather changes and episodes of diarrhea. Read this post by veterinarian Dr. Jessica Huntington to learn about eight situations an equine electrolyte paste can aid horses.
DAILY GOLD IS AN EXCELLENT
SOLUTION FOR DIARRHEA & SCOURS
Did you know our Stress Relief Syringe resolves diarrhea? Scours or diarrhea in foals and adult horses can be dangerous. The Daily Gold syringe is a fast-acting, natural solution. Our bentonite clay normalizes digestion by attracting and binding toxins, balancing pH, and settling the stomach. Plus, the balanced trace minerals rapidly replenish depleted electrolytes and minerals lost through diarrhea.

"I'm so relieved to have FINALLY found a product that not only helps put my nervous horse at ease but is affordable enough to give her before every run. Daily Gold horse syringes are easy to administer, travel with, and much more affordable than comparable products. I don't leave for a barrel race or rodeo without them!"

ALYSSA FLEMING
"I LOVE Daily Gold paste! It's been a lifesaver on multiple occasions when my mare developed a sudden upset stomach. I love that it helped my horse feel back to her sassy self in no time, and it's something I'll never allow myself to run out of."

STEPHANIE MACKISSOCK
"Before discovering Daily Gold syringe, my horse Ruby was stressed and hot to where I almost couldn't handle her. Nothing helped, and pharmaceuticals were way too expensive—plus, I didn't want to drug my horse. Redmond's paste was different; it's 100% natural, with simple ingredients. Now Ruby and I have more efficient workouts without either of us getting frustrated."

EMMA MCDONALD
"Gold Quick Relief Syringe is a must-have product. We use it daily on our foals to improve digestion and prevent diarrhea. I wouldn't be caught without Daily Gold."

LANCE ROBINSON
"Daily Gold helps my horse focus because it settles any discomfort in their stomach. A pain-free horse equals a focused horse."

BRYAN RASMUSSEN
"This past spring Daily Gold syringe saved the day three times with colicky horses. One of my own had colic, and I was approached by two other panicked owners trying to save colicky, tied-up horses. Daily Gold eased their stomach pains, improved digestion, and all three horses are doing well today. I take this product with me everywhere to ease stress from travel, changing temperatures, and excitement. You can't go wrong with Daily Gold."

Jake Stocking

steer wrestling champion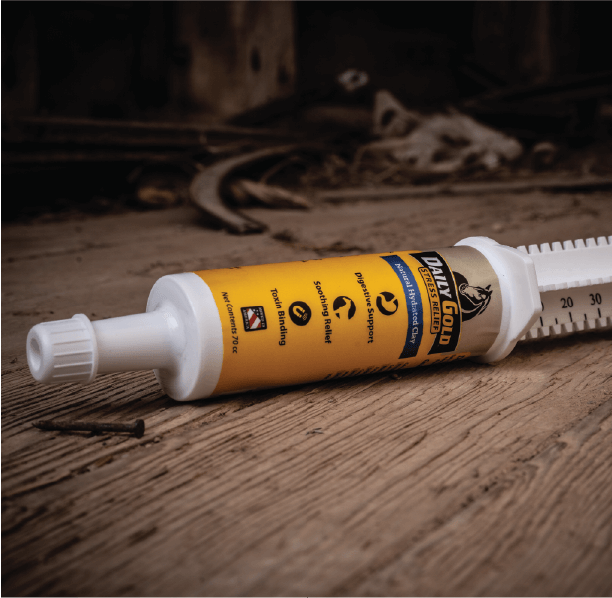 MINERAL SUPPLEMENT FOR HORSES
| MINERAL | MAX | MIN |
| --- | --- | --- |
| CALCIUM | 4.0% | 3.0% |
| PHOSPHORUS | | .04% |
| SALT | 3.5% | 2.5% |
| MAGNESIUM | | .8% |
| POTASSIUM | | .7% |
| SULFUR | | .08% |
| COPPER | | 29 ppm |
| MANGANESE | | 400 ppm |
DAILY GOLD INGREDIENTS:
Water, Hydrated Sodium Calcium Aluminosilicate, Peppermint Oil
STRESS RELIEF SYRINGE FREQUENTLY ASKED QUESTIONS
WHEN HORSES NEED STESS RELIEF
Daily Gold Stress Relief Syringe works as a simple and effective solution for many situations

When introducing new stall mates

Prior to a stressful performance or competition

During extreme weather changes that affect horses

Before traveling or
on long hauls.

When your horse refuses to drink, or at the first sign of dehydration.

During episodes of loose manure or horse diarrhea, to alleviate acute ulcer pain & at the first sign of upset stomach/colic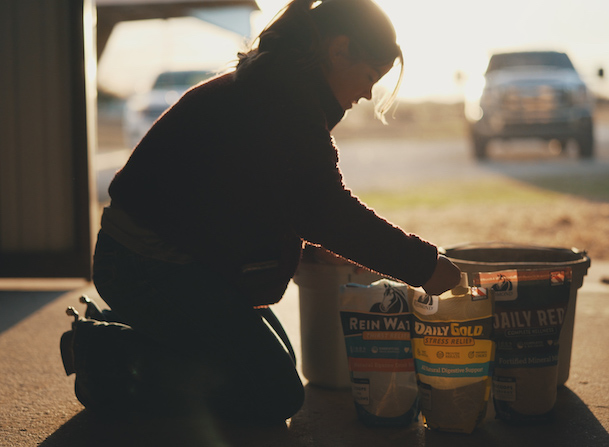 FEEDING INSTRUCTIONS
Fast-acting Daily Gold Stress Relief syringe is perfect for traveling or dosing quickly. Just feed the syringe orally 30-60 minutes before any situation that creates stress for your horse. For small horses, use half a syringe. For full-grown horses, use a full syringe. It's simple to use!