ARE YOU LOOKING FOR AN EQUINE HYDRATION SOLUTION FOR TRAVEL?
"With Rein Water, our horses drink more on the road. That's a big thing for us, because we're on the road every weekend. Rein Water doesn't just help our horses drink water, but it also gives them the minerals and things they need throughout the whole year."
LINDSAY ROBINS, CERTIFIED EQUINE MASSAGE THERAPIST
SHOP REDMOND REIN WATER PRODUCTS
SUPERIOR ELECTROLYTE AND THIRST QUENCHER FOR HORSES
Encourage you horse to drink and stay hydrated.

ESSENTIAL ELECTROLYTES
Critical horse electrolytes restore balance and encourage drinking.

PACKED WITH MINERALS
Over 60 trace minerals nourish and support horse health.

SIMPLE INGREDIENTS
Redmond-brand unrefined sea salt and bentonite clay are the only ingredients.

NO FILLERS
Contains no grains, artificial flavors, or sticky sweeteners.

NATURAL FLAVOR
Alkalizes and masks the taste of chemically treated water—plus horses love the taste!

GREAT FOR TRAVELING
Comes in a 5-pound bag or handy single-use packets for taking on the road.
LEARN ABOUT WHY
HORSES PREFER REIN WATER
Your horse's health is important, and hydration is key—but horses are sometimes fussy about water, especially on the road. The taste, smell, even acidity of strange water can turn horses away, putting them at risk for dehydration and colic. Rein Water minimizes chlorination, alkalizes water, and horses love the natural taste of our minerals.

My horses are no longer eating the ground and licking everything in sight to find what's lacking in their nutrition. They're getting what they need every day as a free-choice supplement with Redmond Rock.

DREW CLARK
I have used the Redmond Salt rocks for several years. They are harder and last longer than conventional salt blocks. I like the mineral content as well. I just drop them in the bottom of my feed bins . My horses love these things !! (I started getting the rocks without ropes because my horse would grab it and take it out of the feed bin with the rope)

SHELLY M.
It took my horses a day or two but they love their new salt rocks! And, honestly, my older horses are already more bright-eyed and everyone seems happier. I am so glad I found Redmond!

ERIN D.
I love the Redmond Rocks and how healthy they are for my horses. Also, your customer service is superb! When I called about the error with my order, you immediately sent another shipment to more than correct the error. Thank you for that! And thank you for a great product!

NANNETTE

"My horses love Rein Water! The salt and minerals encourage them to drink more, and when I'm traveling with my horses, they don't turn their noses up at different-tasting water because they recognize the taste and smell of Rein Water. I believe it keeps my horses better hydrated and provides the minerals they need to stay healthy."

JULIE GOODNIGHT, INTERNATIONAL TRAINER AND CLINICIAN
"My horse doesn't like all water supplements, but he likes this one. During the summer, he drank the bucket with this in it before he drank the plain water one."

EMILY D., AMAZON CUSTOMER
"I have a horse that doesn't like to drink as much water as he should. Since I started using [Rein Water] his water consumption per day has doubled. I will always have this at the barn."

DENA R., AMAZON CUSTOMER
"Rein water works so well! My OTTB went down from dehydration 2 years ago and my vet suggested adding salt to his daily feed. I already used Redmond rock as a salt lick but thought I would try this. He and my mare were not too keen on the taste at first, so I added it slowly to our drinking trough. They now drink it up and we have had no more dehydration issues. It also helps with drinking away from home."

STACY BRUNEAUX, AMAZON CUSTOMER
"All the horses love this product. It worked great at getting them to drink more water during an extreme hot spell we recently have been having. Will buy in the larger size for at home use and these convenient packs for on the road use."

LOLA, AMAZON CUSTOMER
"My horse wouldn't drink on the road. I was very nervous about dehydration and possible colic. Rein Water has been a lifesaver. It masks the taste of the strange water, and my boy loves it. He drinks very well and is also getting the salt and minerals he needs. I just add one packet to a bucket of fresh water...I will definitely be using this again."

MIKE, AMAZON CUSTOMER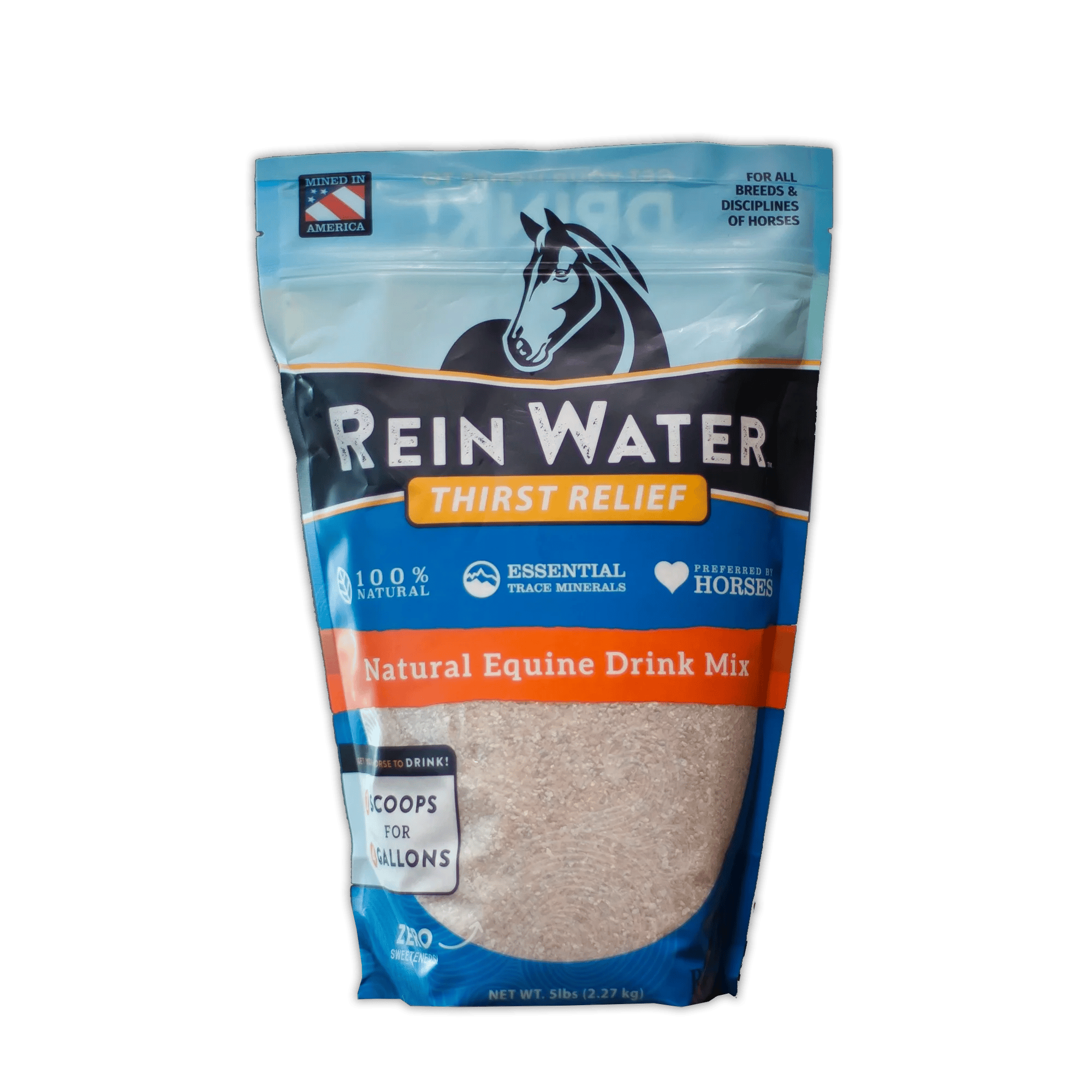 REIN WATER MINERAL SUPPLEMENT FOR HORSES
| MINERAL | MAX | MIN |
| --- | --- | --- |
| CALCIUM | 2.7% | 2.2% |
| PHOSPHORUS | | .003% |
| SALT | 51% | 46% |
| MAGNESIUM | | .43% |
| POTASSIUM | | .35% |
| SULFUR | | .07% |
| COPPER | | 11 ppm |
| ZINC | | 17 ppm |
| IODINE | | 10 ppm |
| IRON | | 2200 ppm |
| MANGANESE | | 202 ppm |
REDMOND ROCK INGREDIENTS:
Unrefined Mineral Salt, Sodium Calcium Aluminosilicate
REIN WATER FREQUENTLY ASKED QUESTIONS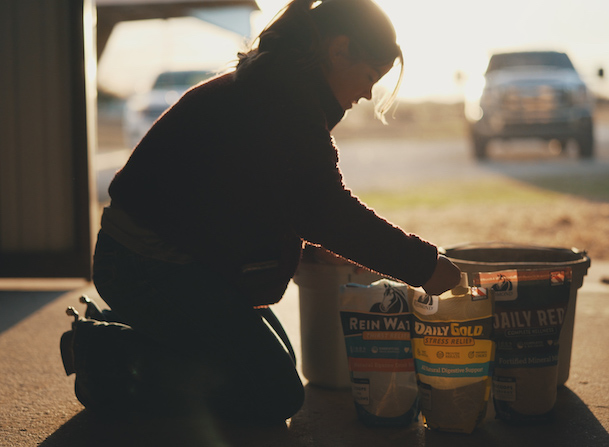 FEEDING INSTRUCTIONS
Stir 2 scoops (2 oz.) of Rein Water into a bucket of 4 gallons fresh water. Contents will settle, but your horse will still benefit from the trace minerals absorbed in the water. Some silt may remain in the bucket when water is gone. Just rinse and start over! Always provide your horse with fresh water separate from Rein Water.

Is your horse ignoring water altogether? Try adding Rein Water to its feed to trigger a desire to drink.