ARE YOU LOOKING FOR A NATURAL SOLUTION FOR EQUINE FLESH WOUNDS?
"Redmond First Aid clay is a go-to ointment for me and my horses. I've applied it to cuts, scrapes, and bruises on my horses with excellent results. The clay is an all-natural product that seals and protects wounds and provides instant pain relief—I know because I use it on myself."
JULIE GOODNIGHT, INTERNATIONAL HORSE EDUCATOR AND TRAINER
SHOP REDMOND FIRST AID PRODUCTS
NATURE'S BEST WOUND HEALING CREAM FOR HORSES
Choose an effective ointment for bites, cuts, and burns that seals the wound to promote healing.

PREVENTS PROUD FLESH
Promotes a clean, rapid repair and prevents proud flesh from forming.

DRAWS INFECTION
Our hydrated bentonite clay soothes on contact and pulls heat and bacteria from infected wounds.

SEALS WOUNDS
Acts as an antiseptic and creates a protective barrier against bacteria and flies.

COMPLETELY NATURAL
First Aid is wound care made with two simple ingredients: Redmond-brand bentonite clay and purified water.

NATURAL PAIN RELIEF
Provides pain-free healing, with no pharmaceuticals to sting or irritate your horse's skin.

SAFE TO INGEST
It's 100% natural, so First Aid is entirely safe and even beneficial for horses to lick or swallow.
LEARN ABOUT WHY
FIRST AID IS GREAT FOR HORSES AND PEOPLE
Redmond clay excels at healing sores, rope burns, rub spots, and bites on horses. It should always be in your trail pack or equine medical kit. But did you know First Aid also offers quick relief and healing for humans? Try First Aid to soothe insect bites, rashes from stinging plants, or burns on your own skin.

My horses are no longer eating the ground and licking everything in sight to find what's lacking in their nutrition. They're getting what they need every day as a free-choice supplement with Redmond Rock.

DREW CLARK
I have used the Redmond Salt rocks for several years. They are harder and last longer than conventional salt blocks. I like the mineral content as well. I just drop them in the bottom of my feed bins . My horses love these things !! (I started getting the rocks without ropes because my horse would grab it and take it out of the feed bin with the rope)

SHELLY M.
It took my horses a day or two but they love their new salt rocks! And, honestly, my older horses are already more bright-eyed and everyone seems happier. I am so glad I found Redmond!

ERIN D.
I love the Redmond Rocks and how healthy they are for my horses. Also, your customer service is superb! When I called about the error with my order, you immediately sent another shipment to more than correct the error. Thank you for that! And thank you for a great product!

NANNETTE

"Absolutely love this stuff! Had a wound on my mare that nothing would heal. I tried everything from Neosporin, SWAT, Vetericyn, Bag Balm, and a few others I had at the barn. They did nothing or made it worse! Put on First Aid, and like magic the first day it started finally healing up. Now 3 days later it's almost gone! Doesn't hurt or sting. My mare after just two uses, quit trying to avoid her treatment. Keeps bugs off and really does work! New favorite product!"

AARON JONES, AMAZON CUSTOMER
"Simply the best first aid for horses out there. Redmond Equine, in my opinion, makes absolutely the best horse products, period. My neighbor was at a horse show where the arena sand wore sores on the bulbs of her horse's heels. She slathered this product on them, it dried and created a protective barrier. She had no more issues with her horse's heels becoming raw. Superior product."

KIM LANDFATHER, AMAZON CUSTOMER
"Amazing healing product! All-natural, just clay and water. Working magically for all cuts, sores, etc."

MARINA M., AMAZON CUSTOMER
"This is a great product for horses. It heals wounds quickly and keeps flies off the area. I would highly recommend this product for all horse owners' medical kits."

TONI, AMAZON CUSTOMER
"There is nothing better for putting on an open wound and keeping flies and other flying beasties off the wound—and it stays in place without sweating off."

J. PETSCH, AMAZON CUSTOMER
Recently, my young horse Eddie got in a scuffle and ended up with a small cut over his eye. [Redmond] clay was the perfect answer since I didn't want to use any chemicals and risk it getting in his eye. The clay dried up and stayed in place for several days, forming a protective layer to keep out insects and debris, almost like a bandage. Now it looks great—like it never even happened"

JULIE GOODNIGHT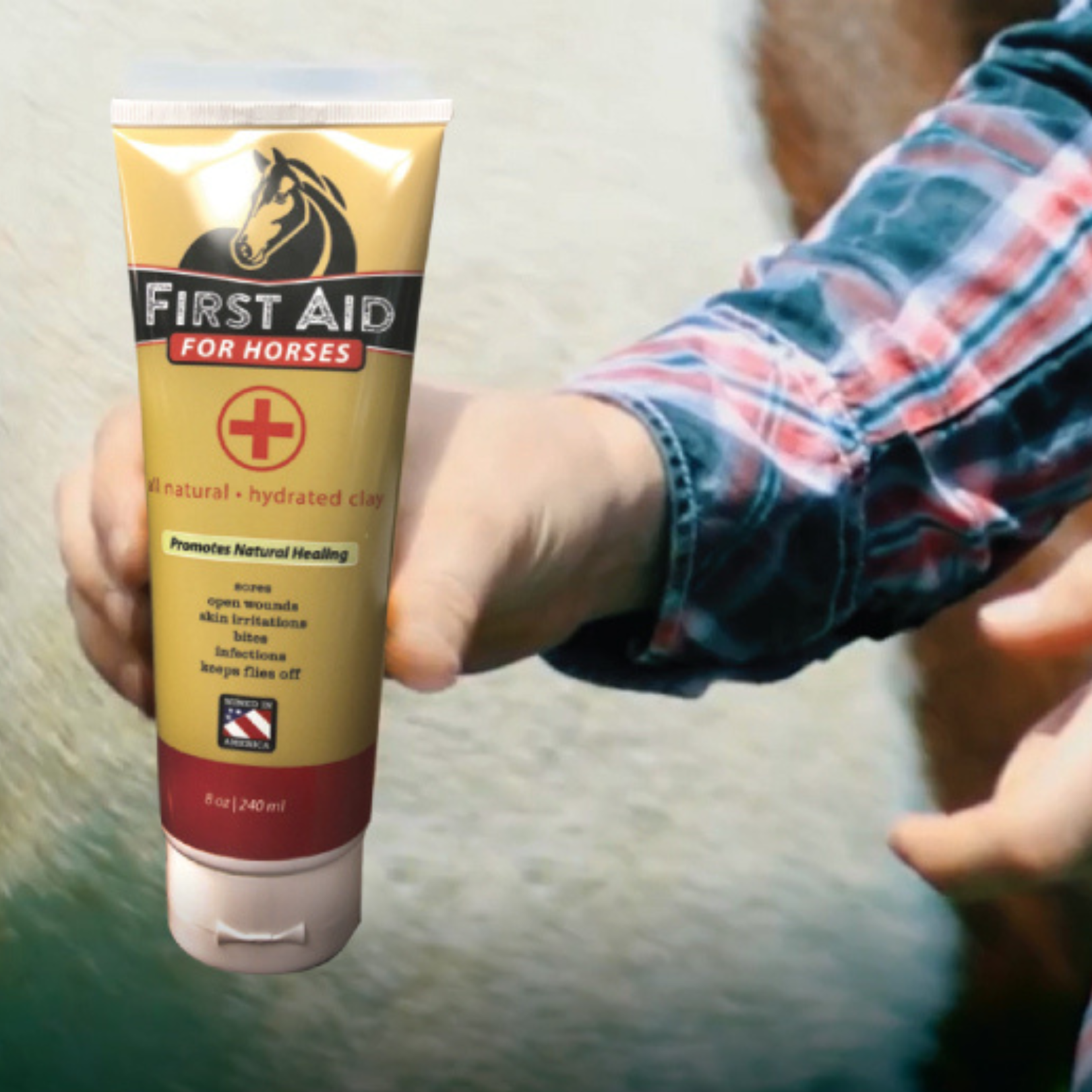 NATURAL HEALING FOR EQUINE FLESH WOUNDS
FIRST AID INGREDIENTS:
Hydrated Sodium Calcium Aluminosilicate
FIRST AID FREQUENTLY ASKED QUESTIONS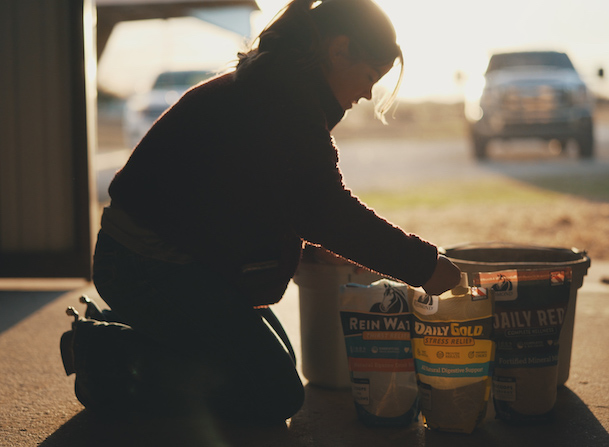 APPLICATION INSTRUCTIONS
First Aid for Horses is easy to apply! Just mound a thick layer over your horse's wound and continue applying once or twice daily. A wrap can also be used to keep the clay moist and protect the wound. The clay will seal the affected area, draw out infection, repel flies and bacteria, and leave a clean repair.