LOOKING FOR A SUPPLEMENT WITHOUT GRAIN PRODUCTS, SWEETENERS AND ARTIFICIAL FLAVORS OR COLORS?
"To know that my barrel horse trusts me, and that I can trust a product like Daily Red to give him everything that he needs, is invaluable to my program."
WHITNEY DIAMOND
BENEFITS OF AN ALL-IN-ONE SUPPLEMENT FOR HORSES
Daily Red is made of 100% natural unrefined sea salt, and provides your horse the trace minerals and vitamins he needs.

FORTIFIED MINERAL FORMULA
Daily Red naturally contains 60+ trace minerals for horses, plus a boosted mineral package of zinc, manganese, copper, iodine, selenium, and cobalt to promote peak health and performance.

VITAMINS FOR VITALITY
Includes vitamins A, D, and E to support vision, reproduction, strong bones, nerve function, and a robust immune system.reproduction, strong bones, nerve function, and a robust immune system.

EFFECTIVE HYDRATION AID
Contains essential equine electrolytes that trigger thirst and encourage drinking. trigger electrolytes that thirst and encourage

SIMPLE AND NATURAL
Daily Red contains all the key vitamins and minerals horses need--no fillers, grains, sweeteners, and no artificial colors or flavors.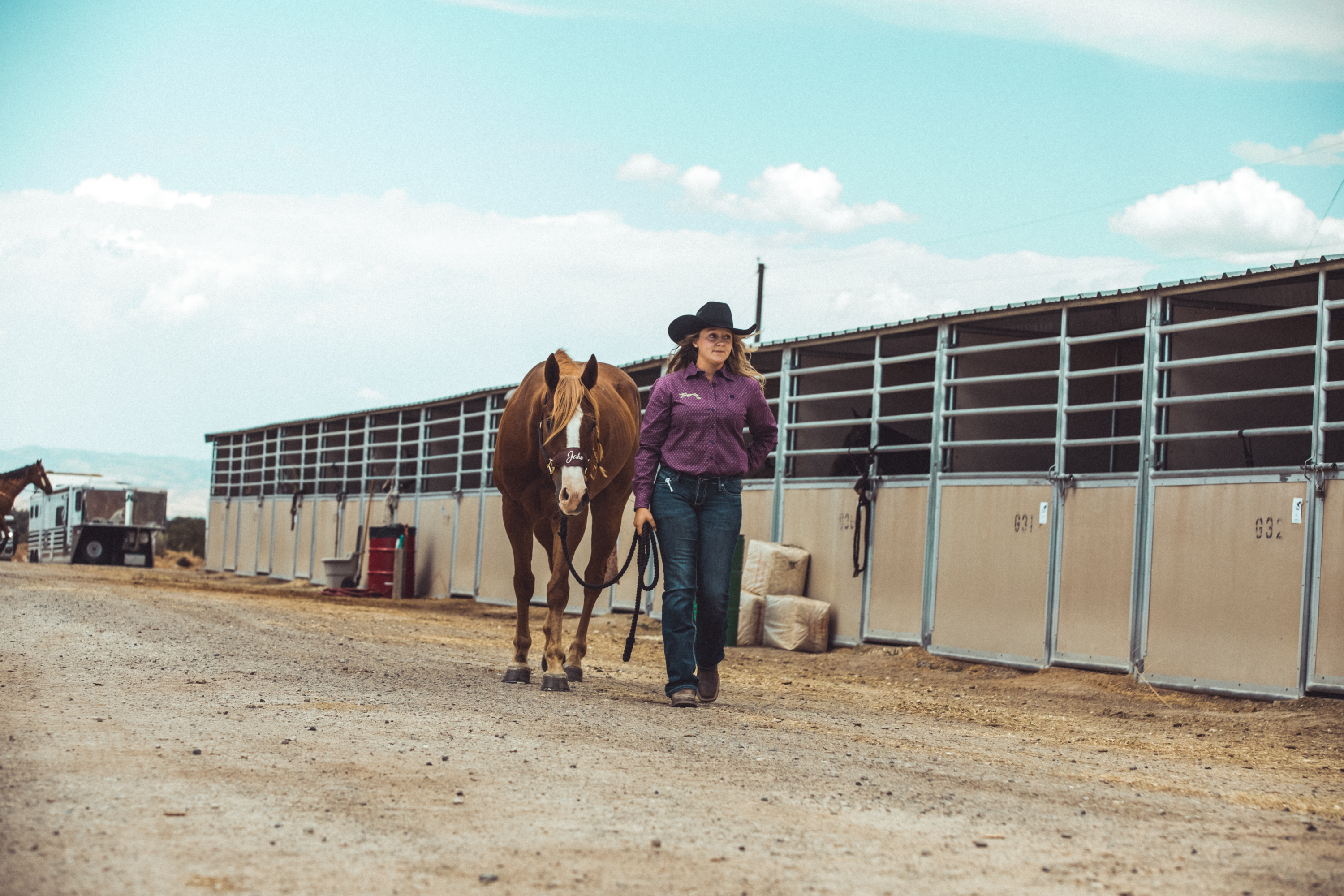 REDMOND ROCK CONTAINS
IMPORTANT NUTRIENTS HORSES NEED
We all want to provide the best nutrition for our horses, but sometimes they still experience deficiencies due to low-quality feed, increased stall time, or depleted soils. Daily Red contains 60+ trace minerals, including 11 minerals and vitamins horses often become deficient in.

My horses are no longer eating the ground and licking everything in sight to find what's lacking in their nutrition. They're getting what they need every day as a free-choice supplement with Redmond Rock.

DREW CLARK
I have used the Redmond Salt rocks for several years. They are harder and last longer than conventional salt blocks. I like the mineral content as well. I just drop them in the bottom of my feed bins . My horses love these things !! (I started getting the rocks without ropes because my horse would grab it and take it out of the feed bin with the rope)

SHELLY M.
It took my horses a day or two but they love their new salt rocks! And, honestly, my older horses are already more bright-eyed and everyone seems happier. I am so glad I found Redmond!

ERIN D.
I love the Redmond Rocks and how healthy they are for my horses. Also, your customer service is superb! When I called about the error with my order, you immediately sent another shipment to more than correct the error. Thank you for that! And thank you for a great product!

NANNETTE

"Minerals are vital to maintaining equine health and need to be replenished often. That's why I recommended Daily Red. It delivers a complete balance of minerals to ensure your horse looks, feels and performs its best."

JESSICA HUNTINGTON, DVM
"With Daily Red, our horses receive a natural and complete balance of minerals needed for health, peak performance, and longer performance life. Balanced nutrients promote a satisfied mind and healthy body. Daily Red sharpens our horses' focus and performance, and it shows during competition."

MIKE AND SHERYLYNN JOHNSON
"To give Daily Red is to give yourself piece of mind that you're fulfilling your equine's mineral and vitamin needs. It's easy to give, easy to afford, and they all love it at any age, stage of training, and in any discipline. "

WHITNEY DIAMOND
"Redmond products aren't supplements--they're all-natural products that come from the earth, not full of preservatives and who knows what. Redmond is different; every product is exactly what they say it is and nothing else."

TRICIA ALDRIDGE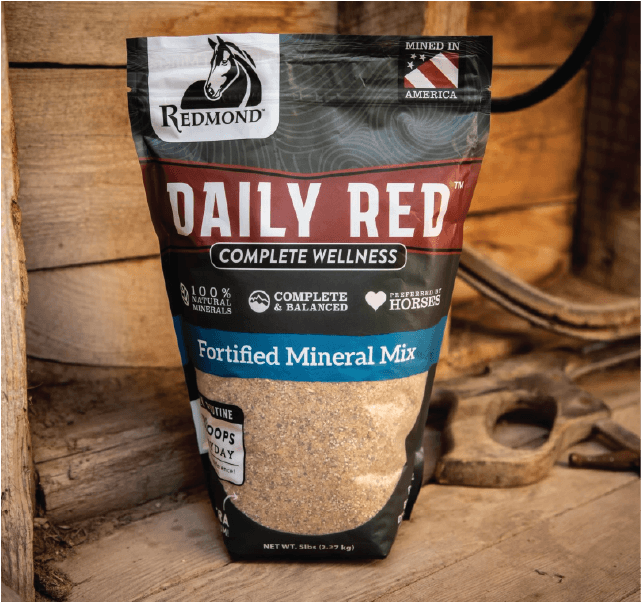 GIVE YOUR HORSE THE MINERALS IT NEEDS
| MINERAL | MAX | MIN |
| --- | --- | --- |
| CALCIUM | 4.0 | 3.0% |
| PHOSPHORUS | | 1.5% |
| SALT | 81% | 76.0% |
| MAGNESIUM | | .06% |
| POTASSIUM | | .03% |
| SULFUR | | .07% |
| IODINE | | 110 ppm |
| MANGANESE | | 1000 ppm |
| COPPER | | 300 ppm |
| ZINC | | 1 ppm |
| IRON | | 300 ppm |
| SELENIUM | | 30 ppm |
| COBALT | | 50 ppm |
| VITAMIN A | | 100,000 IU/lb |
| VITAMIN D | | 3,500 IU/lb |
| VITAMIN E | | 50 IU/lb |
DAILY RED INGREDIENTS:
Unrefined Salt, Calcite, Dicalcium Phosphate, Sodium, Selenite, Zinc Oxide, ZincSulfate, Managanous Oxide, Cobalt Corbonate, Ethylendiamine Dihydriodide(EDDI), Organic Vegetable Oil, Vitamin A Supplement, Vitamin D Supplement, and Vitamin E Supplement
DAILY RED FREQUENTLY ASKED QUESTIONS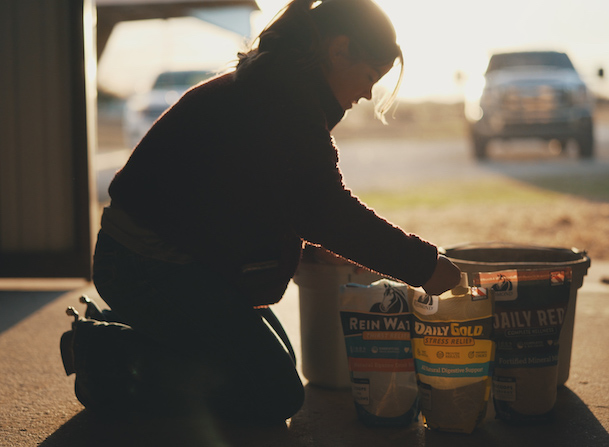 FEEDING INSTRUCTIONS
Feed two ounces (two scoops) of Daily Red per day, per horse, for a full-sized horse. (See the pouch for other feeding amounts.) Simply top dress it on your horse's feed, or feed separately, free choice. For best results, do not feed Daily Red in combination with other salt blocks.