ARE YOU LOOKING FOR A QUICK AND EFFECTIVE ELECTROLYTE REPLENISHMENT?
"Using Redmond Electrolyte has made me more prepared. When I enter and go up the alleyway, my horses are prepared; they're full of minerals [and] vitamins, their bodies are replenished, and they're ready for that run."
AUTUMN SNYDER
SHOP REDMOND ELECTROLYTE PRODUCTS
BENEFITS OF A VET-APPROVED ELECTROLYTE HORSE SUPPLEMENT
The easiest way to provide electrolytes for horses as well as 60+ minerals.

PACKED WITH MINERALS
Redmond Electrolyte paste contains 60 + trace minerals to nourish and naturally balance your horse.

VITAMIN SUPPORT
Includes vitamins A, B, D, and E to support horse health.

REPLENISH ELECTROLYTES
Replenishes equine electrolytes lost through heat, sweat, or nervousness.

EXCELLENT HYDRATION AID
Hydration aid that triggers your horse to drink more.

PEPPERMINT FLAVOR
Horses love the peppermint flavor!

EASY DOSAGE
Easy metered syringe for quick dosing.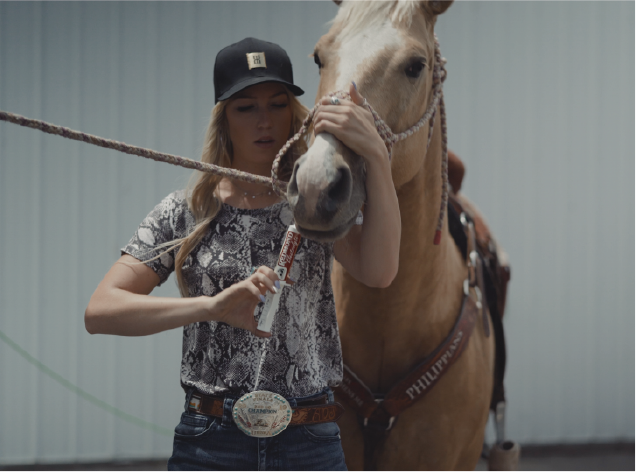 A SUPPLEMENT FOR HORSES THAT ARE
STRESSED, TRAVELING, & DEHYDRATED
Horses need electrolytes after exercise or profuse sweating, but can also benefit from an electrolyte in other situations, including weather changes and episodes of diarrhea. Read this post by veterinarian Dr. Jessica Huntington to learn about eight situations an equine electrolyte paste can aid horses.

My horses are no longer eating the ground and licking everything in sight to find what's lacking in their nutrition. They're getting what they need every day as a free-choice supplement with Redmond Rock.

DREW CLARK
I have used the Redmond Salt rocks for several years. They are harder and last longer than conventional salt blocks. I like the mineral content as well. I just drop them in the bottom of my feed bins . My horses love these things !! (I started getting the rocks without ropes because my horse would grab it and take it out of the feed bin with the rope)

SHELLY M.
It took my horses a day or two but they love their new salt rocks! And, honestly, my older horses are already more bright-eyed and everyone seems happier. I am so glad I found Redmond!

ERIN D.
I love the Redmond Rocks and how healthy they are for my horses. Also, your customer service is superb! When I called about the error with my order, you immediately sent another shipment to more than correct the error. Thank you for that! And thank you for a great product!

NANNETTE

"My horse and I really like the texture and consistency of the Electrolyte paste. I felt that the paste helped to give my mare some extra pep in her run today and helped her to fire better!"

STEPHANIE MACKISSOCK
"I love it… [and] the horses love the Electrolyte paste as well! They took it and swallowed it no problem and seemed to enjoy it! No negative effects."

SARAH SMITH
"I felt after a hard ride [Redmond Electrolyte] gave my horse a nice pick-me-up to keep him from being too exhausted or dehydrated. Usually he has much more energy the following day after administering Electrolyte! I'm a big fan."

HAYDN MORSA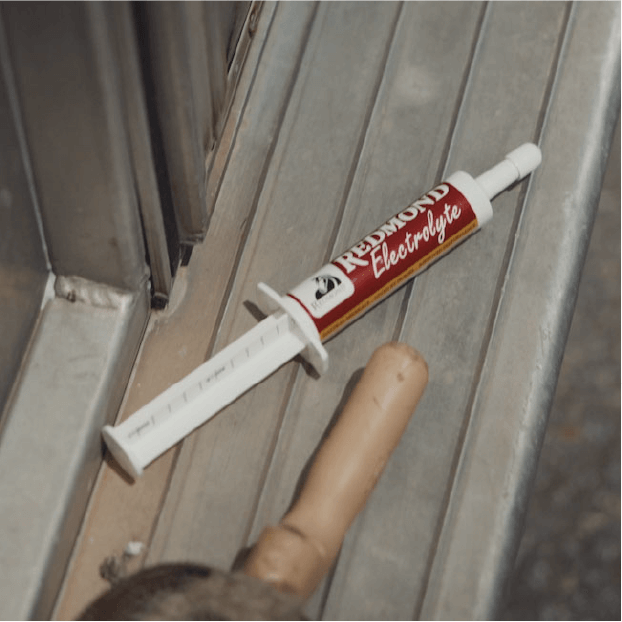 ELECTROLYTES CRITICAL FOR ALL HORSES
| MINERAL | |
| --- | --- |
| CALCIUM | 300 mg |
| SALT | 600 mg |
| MAGNESIUM | 425 mg |
| POTASSIUM | 425 mg |
| VITAMIN A | 2,500 IU |
| VITAMIN B | 30 IU |
| VITAMIN E | 10 IU |
| VITAMIN D | 305 mg |
ELECTROLYTE INGREDIENTS:
Water, Minerals, (Potassium Amino Acid Complex, Magnesium Amino Acid Chelate, Calcium Amino Acid Chelate, Mineral Salt), Citric Acid, Dextrose, Vitamins (Thiamine Hydrochloride, Niacin Supplement, Vitamin B-8, Vitamin E Supplement, Riboflavin Supplement, Vitamin B-12 Supplement, Calcium Pantothenate, Pyridoxine Hydrochloride, Vitamin A supplement, Vitamin D-3 Supplement), Corn Oil, Peppermint Essential Oil, Sorbic Acid (Preservative), Xanthan Gum.
HORSE ELECTROLYTE FREQUENTLY ASKED QUESTIONS
WHEN TO FEED YOUR HORSE REDMOND ELECTROLYTE
There are many instances your horse needs fast-acting electrolytes.

Before and after your horse engages in strenuous exercise.

Before and after a stressful performance or competition.

During heat, humidity, or weather changes that affect horses.

While traveling or
on long hauls. I love redmond Rock Minerals

When your horse refuses to drink, or at the first sign of dehydration.

During episodes of loose manure or horse diarrhea.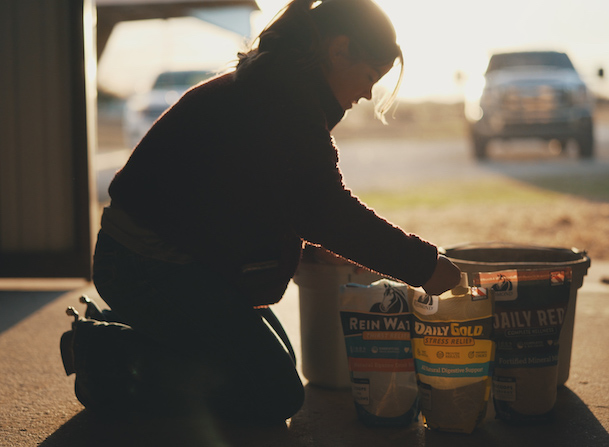 FEEDING INSTRUCTIONS
Fast-acting Redmond Electrolyte syringe is easy to use! It's perfect for traveling, taking on the trail, or dosing quickly in any situation. Administer the electrolyte paste orally. For ponies and miniature horses, feed half a syringe. For full-sized horses, feed a full syringe.