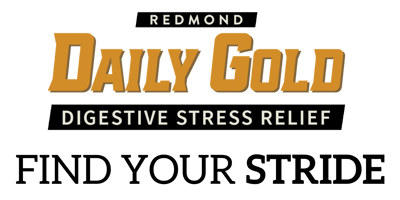 "I love that Daily Gold is all-natural without harsh side effects. You can't train through pain. I give this to our horses to help them feel more comfortable and relaxed, and that makes my job easier."
Amy Williams, Flying A Barrel Horses
DAILY GOLD | BETTER TOGETHER
Our Daily Gold family of products work together as a natural solution for total gut health and stability.
Powder and pellets should be fed daily, and the syringe should be used for stressful situations.

WHY USE DAILY GOLD
Daily Gold is 100% natural bentonite clay, which helps improve equine ulcers and other equine digestive issues.

DELIVER KEY MINERALS
This completely natural montmorillonite clay contains balanced trace minerals that improve gastric health and body condition.

RESOLVE GAS COLIC
Daily Gold is an excellent natural equine supplement for digestion that is also free from preservatives that can have a major impact on your horse's overall health.

PROVIDE STRESS RELIEF
When given an hour to 45 minutes prior to an event or road trip, Daily Gold will coat the stomach and allow horses to focus and relax.

PROVIDE ULCER RELIEF
Daily Gold buffers stomach acid and allows ulcers to heal. Immediate relief soothes the horses, and often, horses resumes a normal eating schedule.

AID IN DIGESTIVE HEALTH
Unique molecules attract and bind toxins that cause stomach trouble while Daily Gold's high pH helps take the burn out of acidic ulcers and sores.

DETOXIFY
As a toxin binder, Daily Gold is 95% efficient at binding aflatoxin and T-2 toxins and carrying them out of your horse's system.
hello redmond
HOW DOES DAILY GOLD ACT AS A
HORSE DIARRHEA SUPPLEMENT?
Daily Gold Stress Relief is often recommended as effective equine digestive support. As a first line of defense to treat loose manure or aid in helping your horse recover from diarrhea, feed two scoops of Daily Gold twice daily for an average-sized horse. The naturally-occurring trace minerals in it also replace critical electrolytes lost through diarrhea.
DO YOU NEED HELP
CALMING A NERVOUS HORSE?
Daily gold helps your horse relax and feel ready to focus and able to give his best effort in every situation. Daily
Gold works as stress relief before travel, before events, and when experiencing something new. Daily Gold soothes nerves and anxiety that cause excess stomach acid, ulcers, and diarrhea.
Click below for 5 tips to calm a nervous horse.

"I used it to help ease my mare out of her bout with diarrhea, and it worked wonderfully. Her stools were back to normal after two days (one dose per day coupled with her standard dose of daily Gold powder)."

DALIA GRIFFITH
"Great product. It controlled the diarrhea my horse had from the rich grass we have this summer. Works like a charm. Would highly recommend."

RUTA S.
"I will never stop using this product! My nervous, girthy, spooky Thoroughbred has had a personality makeover. So much calmer and easier to work with. His chronic runny diarrhea has become much healthier. I am truly impressed by this product. I mix it in with his rice bran and a little corn oil and he eats it all every time.

MICHELLE
"Great product. Started my older retired show gelding on it, who has a history of laminitis issues. He is just blooming on it so began to give to three year-old colt who has had ulcer issues in past. Same thing with him, filling out and looking great. We just started him under saddle and no stress issues at all. Now I have the whole barn on it. They are all Arabians so normal dose would be 2 - 3 scoops...but all seem to be doing wonderfully on 1 scoop. Love this product and in the 25lb bucket size it is a great value!".

ROSIE M.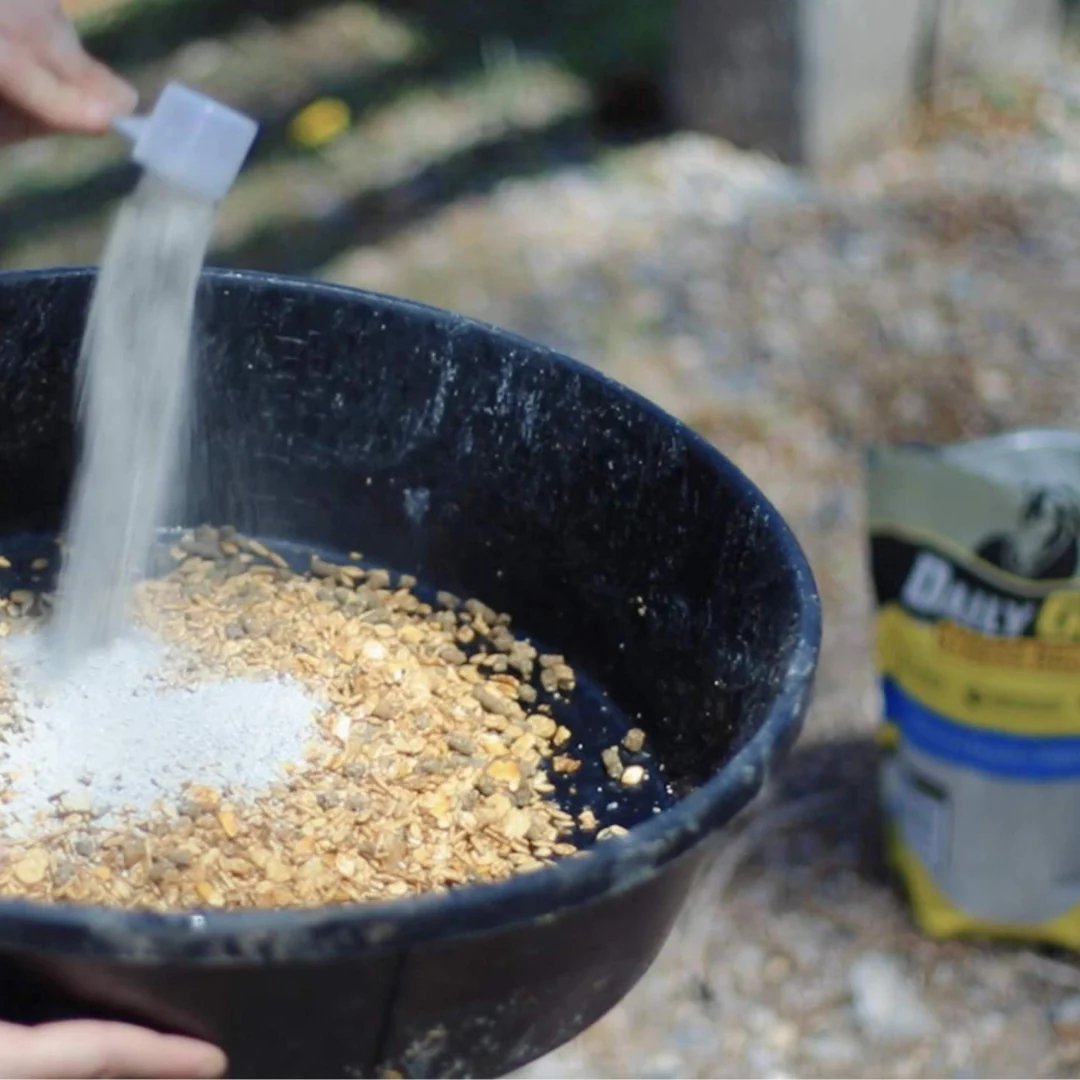 MINERAL SUPPLEMENT FOR HORSES
| MINERAL | MIN | MAX |
| --- | --- | --- |
| CALCIUM | 3.5% | 4.5% |
| PHOSPHORUS | | .8% |
| SALT | 3.5% | 2.5% |
| MAGNESIUM | | .8% |
| POTASSIUM | | .7% |
| SULFUR | | .16% |
| CARBON | | 21,900 ppm |
| IRON | | 3900 ppm |
| MANGANESE | | 400 ppm |
DAILY GOLD INGREDIENTS:
Bentonite Clay
DAILY GOLD FREQUENTLY ASKED QUESTIONS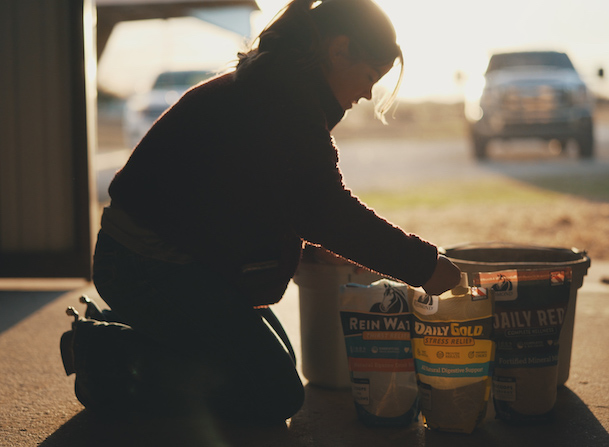 FEEDING INSTRUCTIONS
2 scoops (2 oz) of Daily Gold Powder or 1 cup Daily Gold Pellets per day, added to your feed, will be enough for many horses. If your horse works hard, trains hard, or needs gut and digestion relief, feed 3 scoops (3 oz) Daily Gold Powder or 1 1/2 cups Daily Gold Pellets daily. Add water to your horse's Daily Gold Powder/feed mix to make it moist and appetizing.