HAVE YOU CONSIDERED USING GARLIC TO HELP REPEL FLIES AND TICKS?
"Redmond Rock Crushed with garlic is both versatile and beneficial. It delivers essential minerals, triggers thirst response, supports good gut health, and naturally repels biting flies that annoy and bother your horse's skin."
DR. JESSICA HUNTINGTON, DVM
SHOP REDMOND ROCK GARLIC PRODUCTS
WHY USE REDMOND GARLIC FOR HORSES
A delicious natural alternative to other pest repellents that works!

NATURALLY REPEL FLIES, MOSQUITOES, & TICKS
Garlic formula keeps your horse comfortable and protects skin by naturally repelling biting insects.

NATURAL SELENIUM
Rich in selenium to deliver antioxidant defense and support immune and thyroid function.

DELIVER NECESSARY MINERALS & ELECTROLYTES
Formulated specifically for horses, Redmond Rock Crushed with Garlic contains a complete balance of over 60 trace minerals.

IMPROVE RESPIRATORY FUNCTION
Garlic aids the respiratory system and naturally helps treat and prevent lung diseases and infections.

GREAT GUT HEALTH
Garlic is friendly to the gut; it promotes good flora while inhibiting disease-promoting bacteria and parasites.

ENCOURAGE HYDRATION
Redmond Rock Crushed is a proven electrolyte replacement that prevents dehydration and supports active horses' energy demands.
WHAT MAKES REDMOND ROCK
DIFFERENT FROM A MINERAL BLOCK
Horse owners provide salts licks for horses to replace essential trace minerals and to trigger their thirst for water. But not all salt licks are created equal. Manufactured, pressed horse blocks usually contain six or seven artificially-added minerals. All-natural Redmond Rock has 63+ beneficial trace minerals for horses.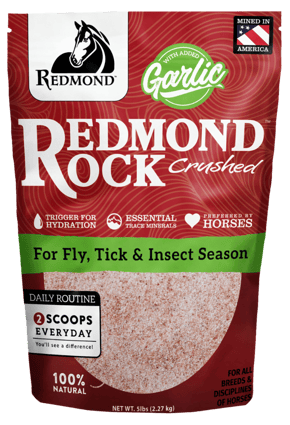 My horses are no longer eating the ground and licking everything in sight to find what's lacking in their nutrition. They're getting what they need every day as a free-choice supplement with Redmond Rock.

DREW CLARK
I have used the Redmond Salt rocks for several years. They are harder and last longer than conventional salt blocks. I like the mineral content as well. I just drop them in the bottom of my feed bins . My horses love these things !! (I started getting the rocks without ropes because my horse would grab it and take it out of the feed bin with the rope)

SHELLY M.
It took my horses a day or two but they love their new salt rocks! And, honestly, my older horses are already more bright-eyed and everyone seems happier. I am so glad I found Redmond!

ERIN D.
I love the Redmond Rocks and how healthy they are for my horses. Also, your customer service is superb! When I called about the error with my order, you immediately sent another shipment to more than correct the error. Thank you for that! And thank you for a great product!

NANNETTE

"During the summer, my horse Chicken always needed a fly sheet and mask to protect against irritation from flies and mosquitoes. Without this protection, he'd rub his mane out. Since feeding Crushed with garlic, I've seen a noticeable decrease in flies. Chicken isn't mane rubbing now, is drinking more, and no longer needs outer protection to ward off pests."

KIM ROBINSON, SALINA, UT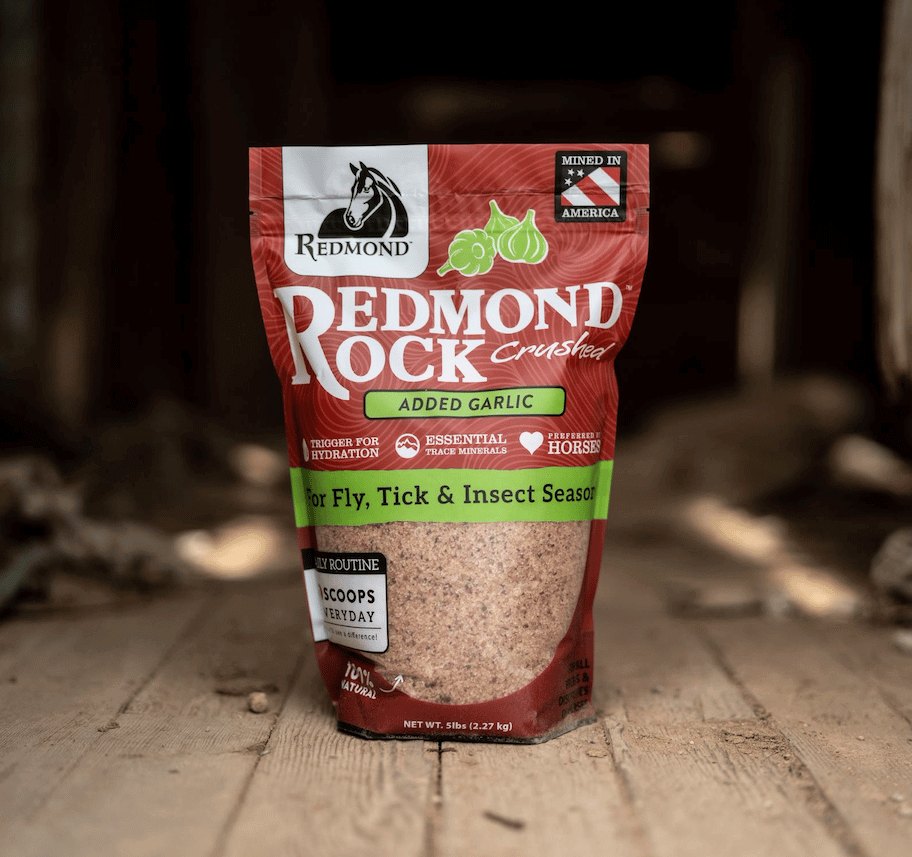 GIVE YOUR HORSE THE MINERALS IT NEEDS
| MINERAL | MAX | MIN |
| --- | --- | --- |
| CALCIUM | 0.85 | .35% |
| PHOSPHORUS | | .002% |
| SALT | 95% | 90% |
| MAGNESIUM | | .06% |
| POTASSIUM | | .03% |
| SULFUR | | .07% |
| IODINE | | 10 ppm |
| MANGANESE | | 5 ppm |
| COPPER | | 3 ppm |
| ZINC | | 1 ppm |
REDMOND ROCK CRUSHED WITH GARLIC INGREDIENTS:
Unrefined Salt, Garlic Oil
HORSES & GARLIC FREQUENTLY ASKED QUESTIONS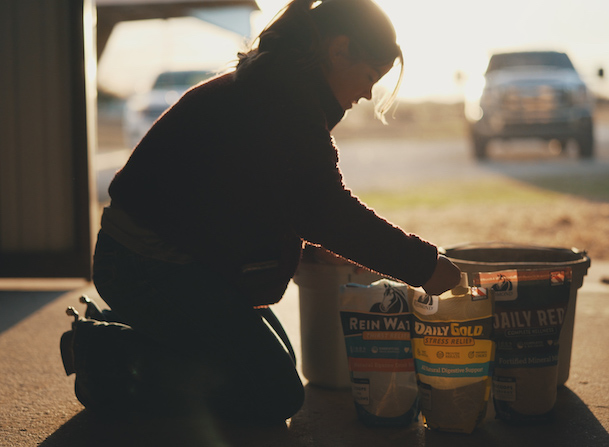 FEEDING INSTRUCTIONS



Feed Redmond Rock Crushed with Garlic daily to encourage hydration, deliver necessary minerals and electrolytes, and naturally repel flies, mosquitoes, ticks and other biting insects. (Do not serve Free Choice)
Redmond Rock Crushed Garlic
Weight
Maintenance

<400

1/2 oz | 1 Tbsp

400-900

1 oz | 2 Tbsp

900-1400

2 oz | 4 Tbsp

>1400

3 oz | 6 Tbsp