ARE YOU LOOKING TO IMPROVE EQUINE HYDRATION WITH NATURAL ELECTROLYTES?
"Proper hydration in horses is essential. Redmond Rock Crushed encourages your horse to drink more, while also providing a store of natural electrolytes and essential minerals necessary for optimum hydration and health."
JESSICA HUNTINGTON, DVM
SHOP REDMOND ROCK PRODUCTS
LOOSE MINERALS SOMETIMES MAKE MORE SENSE
Using Rock Crushed daily helps your horse become more alive, energetic, stronger, and athletic.

VERSATILE FEEDING & SERVING SIZE
Easily add Rock Crushed to feed or adjust the serving based on your horse's mineral and salt needs.

MINERAL LICK ALTERNATIVE
Horses love our loose mineral salt! It won't burn or irritate horses' tongues in any way like some licks.

MADE BY NATURE
Rock Crushed is 100% natural; nothing is added or removed from our pure sea salt.

GREAT FOR TRAVELING
Redmond Rock Crushed 5 lb bag is ideal for ensuring your horse receives necessary minerals and electrolytes on the road.

PACKED WITH MINERALS
Redmond Rock Crushed contains 60 + trace minerals to nourish and naturally balance your horse.

EXCELLENT HYDRATION AID
Contains essential electrolytes that encourage your horse to drink more. I love redmond Rock Minerals
REDMOND ROCK CRUSHED IS AN
EFFECTIVE ALTERNATIVE TO A MINERAL LICK
Some horses, even dehydrated horses, ignore their salt lick, while others require more electrolytes and minerals than a lick can provide. Redmond Rock Crushed is an excellent hydration trigger that delivers all the essential trace minerals and electrolytes a horse needs to stay healthy. Crushed gives you the control to vary the amount of salt and minerals your horse needs.

My horses are no longer eating the ground and licking everything in sight to find what's lacking in their nutrition. They're getting what they need every day as a free-choice supplement with Redmond Rock.

DREW CLARK
I have used the Redmond Salt rocks for several years. They are harder and last longer than conventional salt blocks. I like the mineral content as well. I just drop them in the bottom of my feed bins . My horses love these things !! (I started getting the rocks without ropes because my horse would grab it and take it out of the feed bin with the rope)

SHELLY M.
It took my horses a day or two but they love their new salt rocks! And, honestly, my older horses are already more bright-eyed and everyone seems happier. I am so glad I found Redmond!

ERIN D.
I love the Redmond Rocks and how healthy they are for my horses. Also, your customer service is superb! When I called about the error with my order, you immediately sent another shipment to more than correct the error. Thank you for that! And thank you for a great product!

NANNETTE

"I am happy to report that my herd is eating it and seem more content with Redmond Rock Crushed salt than the plain salts blocks they had previously. They were chewing on the salt blocks as licking them was not providing the quantity of salt they needed. With Redmond Rock Crushed salt they can easily obtain the needed amount."

KIM S.
"Love this product! Have been using for about 6 months, during the difficult winter season. Redmond Rock Crushed has helped keep all 7 of my ponies drinking and well-hydrated through the deepest cold – when they're least likely to drink well. So glad I found this excellent product in time for the heat and humidity of summer – up next!"

SALLIE W.
"I'm very happy with Redmond Rock Crushed equine minerals. My horse never liked or licked salt blocks, so the convenience of top-coating her feed and the peace of mind knowing she is getting everything she needs through this natural product is priceless. Also, it is a great value. I'm so glad I ordered it!"

NATALIE R.
"My horses love Redmond Rock Crushed loose minerals. I love the peace of mind Redmond gives me that my horses are getting the minerals they need. Thanks Redmond for another quality product! Thanks also for your great customer service and speedy shipments."

AMAZON CUSTOMER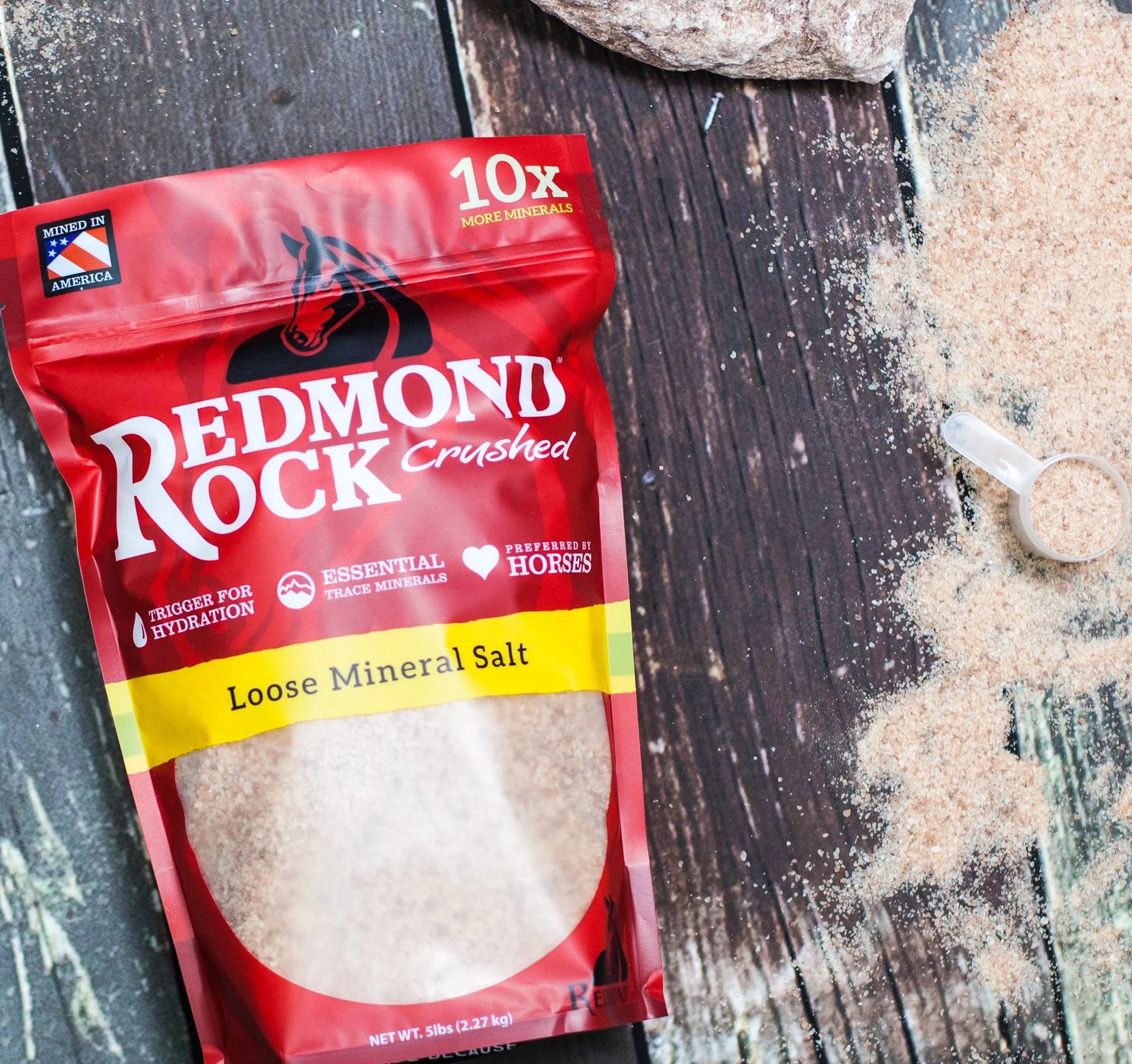 MINERAL SUPPLEMENTS FOR HORSES
| MINERAL | MAX | MIN |
| --- | --- | --- |
| CALCIUM | .85% | .35% |
| PHOSPHORUS | | .002% |
| SALT | 96% | 91.0% |
| MAGNESIUM | | .06% |
| POTASSIUM | | .03% |
| SULFUR | | .12% |
REDMOND ROCK INGREDIENTS:
Unrefined Mineral Salt
REDMOND ROCK CRUSHED FREQUENTLY ASKED QUESTIONS
If you're feeding your horse 2 ounces of Crushed per day, one pouch will last approximately 6 weeks.
Crushed should not be fed with other loose horse minerals like Redmond Daily Red or Crushed with Garlic. Giving your horse access to a free-choice Redmond Rock or Rock on a Rope mineral lick in addition to Crushed is fine.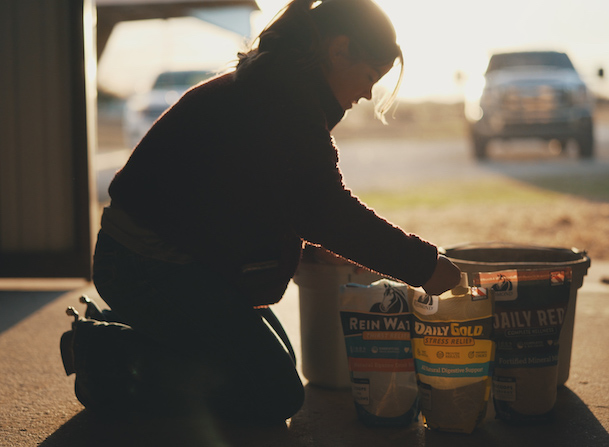 FEEDING INSTRUCTIONS
Top-dress 1 to 2 ounces of Crushed on your horse's feed, or provide free choice. Always ensure your horse has access to fresh water.