DO YOUR HORSES EXPERIENCE SWELLING AND SORENESS AFTER WORKOUTS?
"Red Edge poultice keeps our racehorses' legs rejuvenated. There's a noticeable difference in how quickly the muscles are ready to run again. Tendons tighten quickly or stay tight after a race, and overall, we just have better success keeping our horses sound."
JENNIFER QUARNBERG
SHOP REDMOND FIRST AID PRODUCTS
REDUCE SWELLING AND TREAT HOT SPOTS ON HORSES' LEGS
Natural and effective topical first aid that draws out pain and reduces swelling.

PAIN RELIEF
Red Edge is a natural analgesic that relieves sore muscles, tendons, bruises, and sprains.

REDUCES SWELLING
Redmond bentonite cooling clay draws out heat, fluid, and inflammation.

SOOTHES & RELAXES
Therapeutic menthol, peppermint, and tea tree oils cool hot spots and help your horse relax.

ALL NATURAL
Our ingredients are simple: Redmond clay, Redmond salt, purified water, menthol, and essential oils.

STING FREE
Contains no chemicals to irritate your horse's skin, which means it's safe to use under wraps and bandages.

EASY APPLICATION
Our equine poultice goes on smooth and washes off easily with water. I love redmond Rock Minerals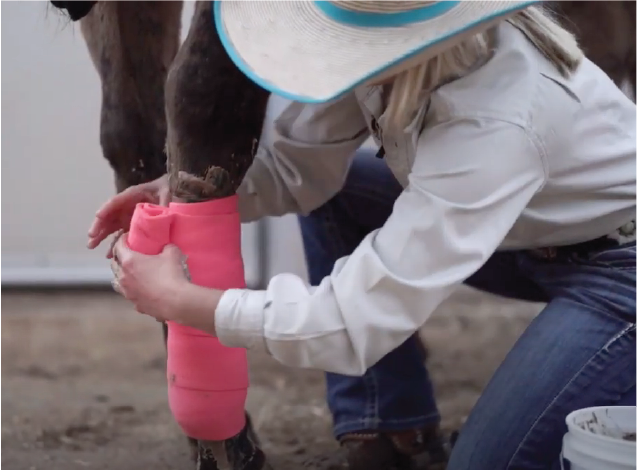 LEARN ABOUT WHY
REDMOND BENTONITE CLAY HEALS
For thousands of years humans have used poultices for horses as a "drawing salve" to prevent and heal injury. Poultices are usually made from clay and water and applied from knee to fetlock. Redmond bentonite clay is uniquely good at drawing out toxins, excess fluid, and improving blood circulation.

My horses are no longer eating the ground and licking everything in sight to find what's lacking in their nutrition. They're getting what they need every day as a free-choice supplement with Redmond Rock.

DREW CLARK
I have used the Redmond Salt rocks for several years. They are harder and last longer than conventional salt blocks. I like the mineral content as well. I just drop them in the bottom of my feed bins . My horses love these things !! (I started getting the rocks without ropes because my horse would grab it and take it out of the feed bin with the rope)

SHELLY M.
It took my horses a day or two but they love their new salt rocks! And, honestly, my older horses are already more bright-eyed and everyone seems happier. I am so glad I found Redmond!

ERIN D.
I love the Redmond Rocks and how healthy they are for my horses. Also, your customer service is superb! When I called about the error with my order, you immediately sent another shipment to more than correct the error. Thank you for that! And thank you for a great product!

NANNETTE

"Clarity has splints and scar tissue in both her back legs, and this condition sometimes affects her output. Her legs would often get swollen and hot after competition or when she hadn't been worked in a while. Redmond Red Edge poultice is the only product I've found that actually greatly reduced my horse's swelling.

ALLIE KIDD-DRAGULA
"My horses legs stocked up after hauling a long distance. I applied Red Edge overnight, and by morning the swelling was 99% gone. It's a relief knowing I've found a product that actually works."

GEORGE MARCENKO
"Poultices are one of my favorite things to use. I feel my horses' legs stay tighter and less sore. Red Edge reduces inflammation and pain, which means my horses feel good and want to do their jobs, and hopefully means fewer trips to the vet."

DARCEE SHEPHERD
"I love Red Edge poultice and notice a big reduction in my horse's leg swelling and soreness after use. It's easy to apply, smells good, and is gentle on Annie's sensitive skin and mine."

REDMOND CUSTOMER
"I love this product. My mare pulled a superficial auxiliary ligament about 3 months ago. Stall rest and a different topical. Tried this product and saw huge improvement in two days! I alternate wrapping every other day and it still relieves the swelling. Very impressed."

DEBBIE WITHEROW, AMAZON CUSTOMER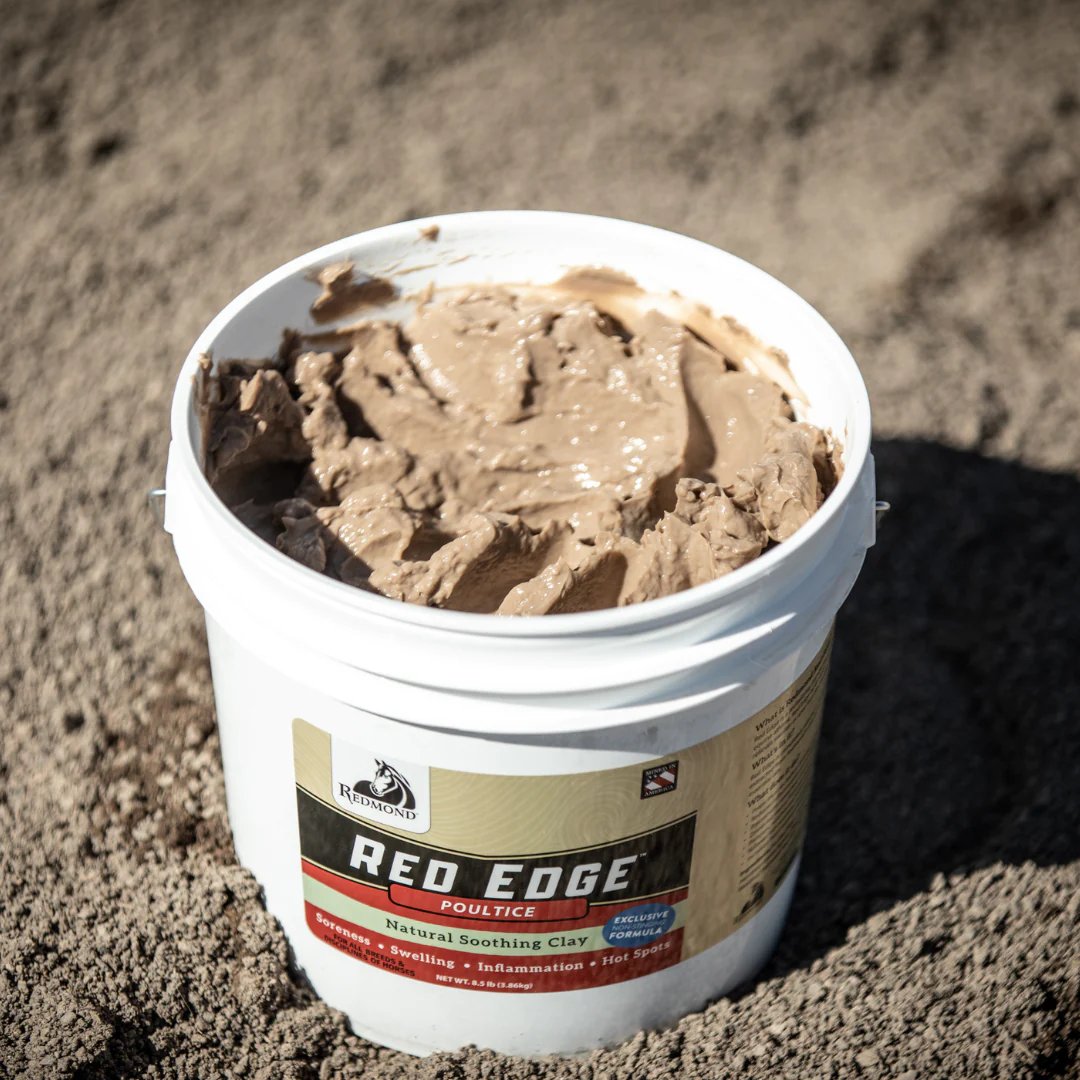 TOPICAL PAIN RELIEF FOR HORSES' SORE LEGS
POULTICE INGREDIENTS:
Purified Water, Bentonite Clay (of the montmorillonite family), Peppermint Essential Oils, Menthol, Redmond Real Salt™, Tea Tree Oil
BENTONITE CLAY FREQUENTLY ASKED QUESTIONS
WHEN TO APPLY RED EDGE POULTICE
There are many instances when your horse is in need of topical pain relief

BEFORE HAULING
Hauling can create pain, stiffness and swelling in horses' legs. I love redmond Rock Minerals

BEFORE EXERCISING

Applying a poultice prior to strenuous exercise helps prevent injury and keeps horses' legs tight.

COOLING DOWN

Applying after exercise reduces inflammation and swelling and jumpstarts recovery.

USING IT ON THE HOOF

Red Edge relieves foot soreness, bruising and abscesses. I love redmond Rock Minerals

BEFORE SHOEING

Packing the hoof prior to shoeing creates a soft, pliable hoof for your farrier.
WONDERING HOW TO
APPLY RED EDGE POULTICE?
Watch this video for a demonstration to learn several different ways to use and apply Red Edge Poultice.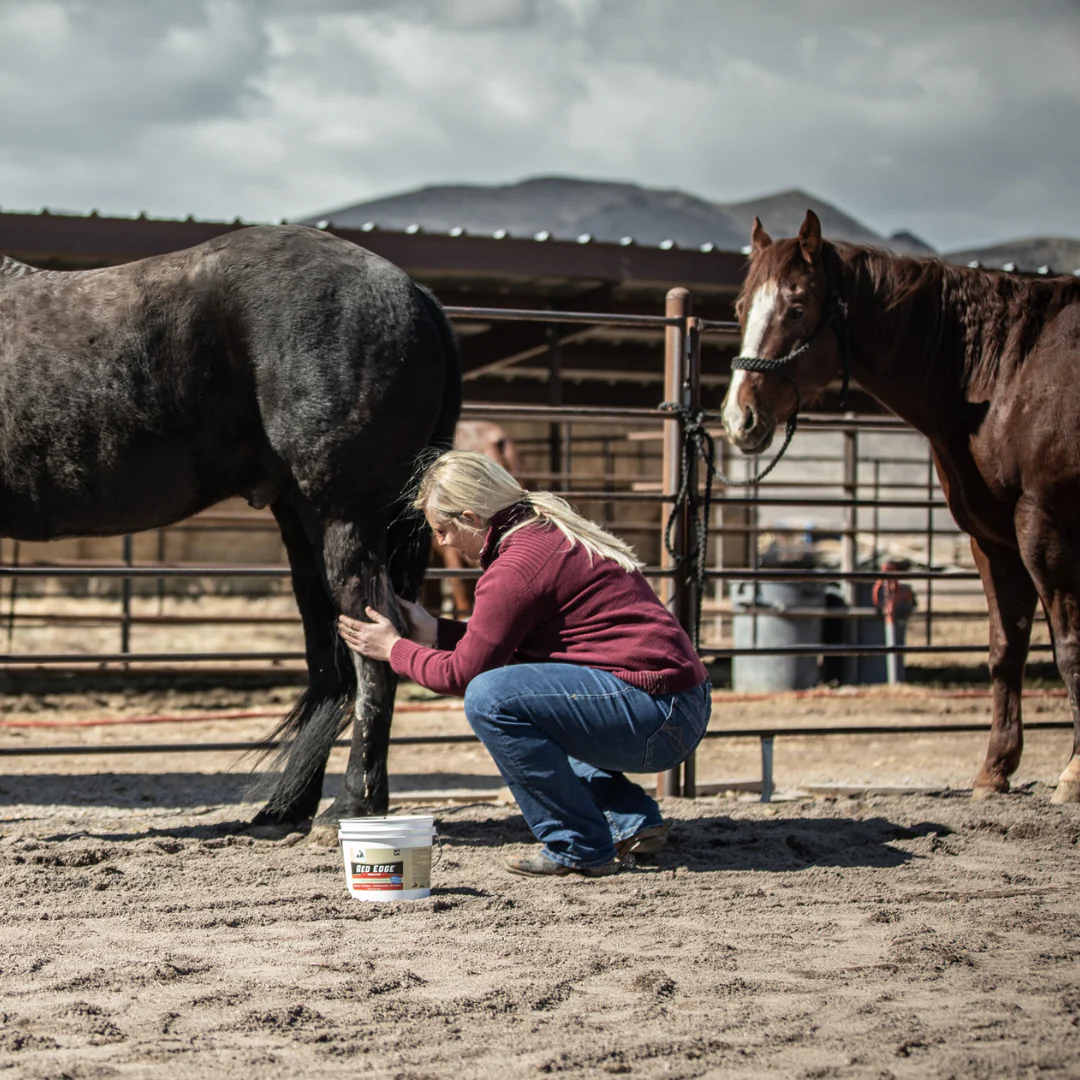 APPLICATION INSTRUCTIONS
Just apply a thick layer of Red Edge clay to your horse's legs. Use it alone or in combination with wraps for a more intensive treatment. Leave the poultice on overnight (or approximately 12 hours) and wash off with water. Red Edge is also great for hoof soreness or abscesses.