DOES YOUR HORSE LACK EASY ACCESS TO A QUALITY SALT AND MINERAL LICK?
"I love to use Rock on a Rope. I can hang it up where it's out of the dirt and stays clean. My horses have easy access to it and are always happy to eat it."
TONY HARDEN
SHOP REDMOND ROCK PRODUCTS
WHY CHOOSE NATURAL ROCK ON A ROPE MINERALS FOR YOUR HORSE
Redmond Rock on a Rope is a fun way to help restore and bring your horse back into natural mineral balance.

PACKED WITH MINERALS
Redmond Rock contains 60 + trace minerals to nourish and naturally balance your horse.

EXCELLENT HYDRATION AID
Contains essential electrolytes that encourage your horse to drink more.

HANDY HEMP ROPE
A tri-colored rope makes it easy to tie our rock to a gate, stall, barn, or fence post.

GREAT FOR TRAVELING
Take it in your trailer. Our 3-5 pound rock is great when on-the-go and using in tight spaces.

BOREDOM BUSTER
Use it as a healthy alternative to candy balls to keep horses occupied. I love redmond Rock Horses salt

WILL NOT DISSOLVE
Our solid rock holds up better in wet weather and humidity than manufactured pressed salt blocks.
WHAT MAKES REDMOND ROCK
DIFFERENT FROM HIMALAYAN
Is Redmond Rock a better choice than Himalayan rock? Yes, we think so! 100% of our mineral salt is mined and packaged right here in the USA. We kind of like that. Redmond Rock also contains around 7% natural mineral content compared to 3% of most Pakistani-mined Himalayan rock.

"My horse loved it! He was more interested in it I think because of the shape. It wasn't the plain old round wheel of the pink Himalayan salt."

JILL E.
"My horse is very picky about mineral salt licks. He loves the Redmond Rock on a Rope!"

BONITA BONNIE DOCKERY, AMAZON CUSTOMER
"My picky mare, who doesn't like the other salt licks or the flavored toys, LOVES this. Loves it so much I'm order ing her more. Helps with her boredom and not chewing the fence."

LPRESTO, AMAZON CUSTOMER
"My horses love it, and I'm happy that I'm giving them natural salt."

DRAGONGAL, AMAZON CUSTOMER
"Our weather changes drastically in Colorado, so we worry about intake of water and impaction. Going into winter, I make sure my horses get Redmond Rock every day. It makes me feel better and worry a lot less."

TONI HARDEN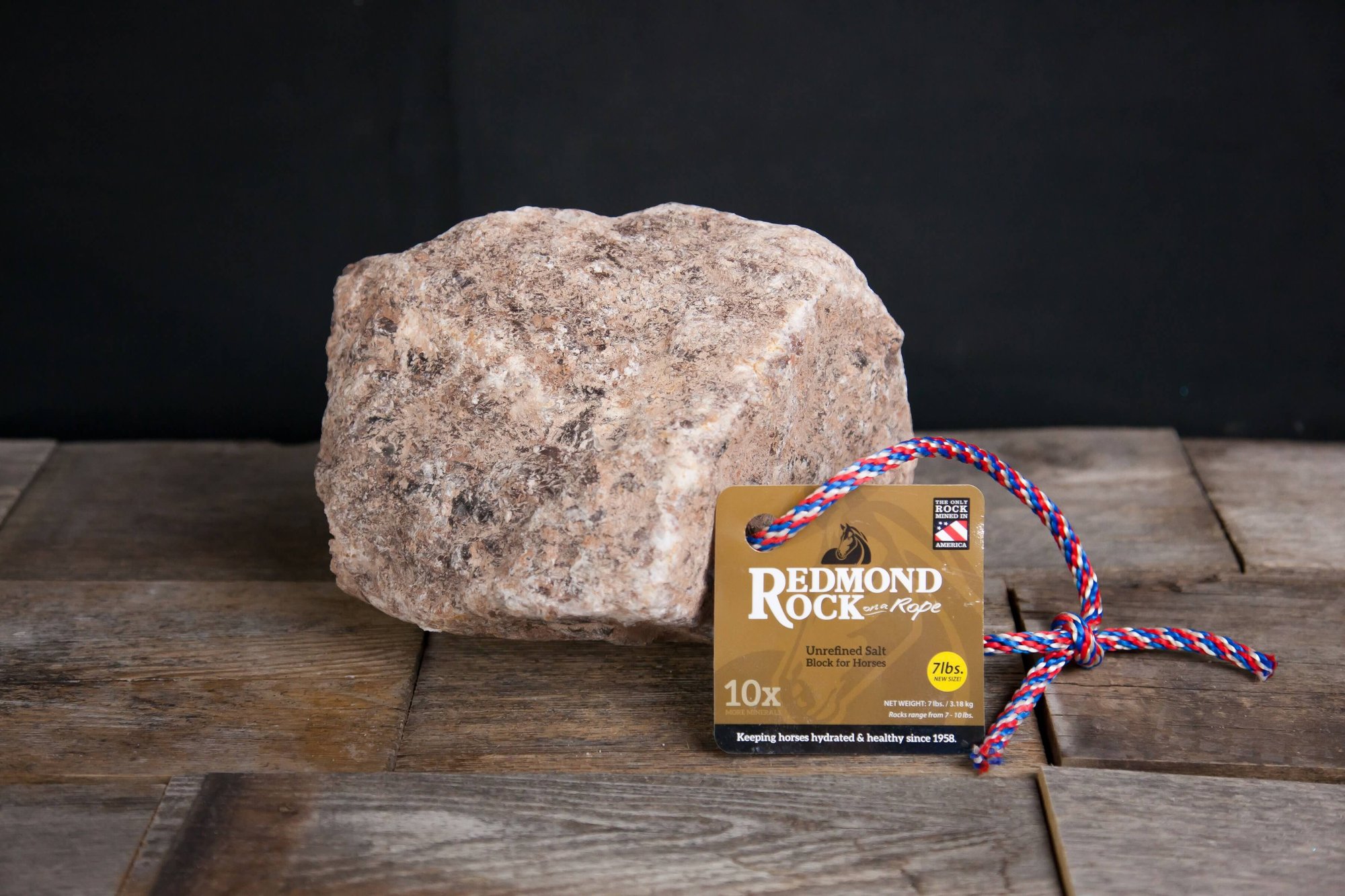 MINERAL SUPPLEMENT FOR HORSES
| MINERAL | MAX | MIN |
| --- | --- | --- |
| CALCIUM | .85% | .35% |
| PHOSPHORUS | | .002% |
| SALT | 95% | 90% |
| MAGNESIUM | | .06% |
| POTASSIUM | | .03% |
| SULFUR | | .07% |
| COPPER | | 3 ppm |
| ZINC | | 1 ppm |
REDMOND ROCK INGREDIENTS:
Unrefined Mineral Salt
ROCK ON A ROPE FREQUENTLY ASKED QUESTIONS
TIPS FOR USING REDMOND ROCK ON A ROPE
Here are some simple tips to introduce and help your horse get used to Rock on a Rope
TIE IT AGAINST A POST
Tying Redmond Rock on a Rope tight against a post makes it easier for a horse to lick.Redmond Rock
GIVE IT SOME SLACK
Giving the rope some slack creates a healthy alternative to candy balls and boredom busters in the stall.
TIE IT TO A FENCE
Tying Rock on a Rope to a fence outdoors keeps it out of the dirt and mud.I love Redmond Rock
TIE IT LOWER ON A GATE
Tying it lower on a gate allows horses to maintain the posture they naturally assume when foraging.
USE A LITTLE MOLASSES
Pouring molasses on Rock on a Rope will encourage horses to lick if they aren't initially interested.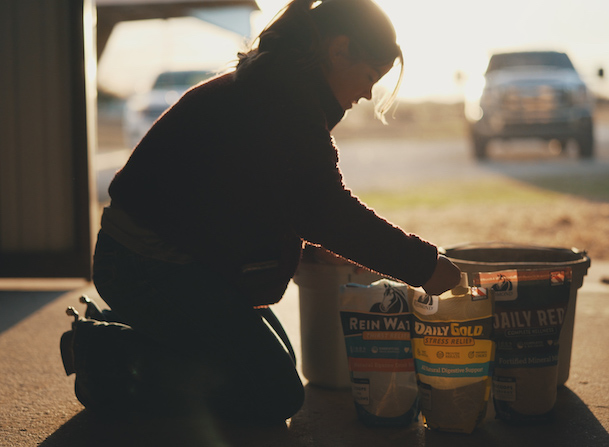 FEEDING INSTRUCTIONS
Tie Redmond Rock on a Rope to your horse's barn, stall, or a fencepost as a free-choice salt and mineral supplement. Always provide your horse access to fresh water.