WHAT HEALTH PROBLEM IS YOUR HORSE STRUGGLING WITH?
YOUR FOUNDATIONAL EQUINE MINERAL PROGRAM
While each of these products individually will improve your horse's overall health, when used in combination, they build a solid mineral foundation.
1.
Start with Daily Gold
It buffers acid, soothes stomach upset, relieves diarrhea, improves appetite, and repairs ulcers.
2.
Choose a Crushed Salt
Horses need salt to stay hydrated and minerals to perform nearly every physiological function.
3.
Add a Redmond Rock
Our salt licks are also loaded with minerals and electrolytes but are offered free choice to satisfy hard-working horses' extra mineral and salt demands.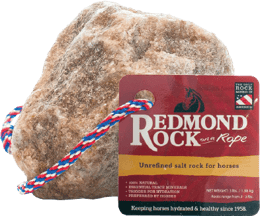 SHOP REDMOND'S BEST-SELLING PRODUCTS
MINERALS MINED FROM AN ANCIENT SEA BED IN REDMOND, UTAH
Redmond Equine's unique balance of minerals comes directly from an ancient mineral sea bed mined in Redmond, UT. These minerals are balanced and proportioned by nature--meaning, nature determines the minerals present and their quantities.
So what does 60+ mean? In every Redmond product there are at least 60 naturally occurring minerals that interact and join forces on metabolic pathways in humans, animals, and soils. This natural complexity is the beauty of Redmond's simplicity.
WE FEEL INCREDIBLY LUCKY TO BRING THEM TO YOU!
Join Trainer's Circle! With Redmond Trainer's Circle, you join a community that works together to train horses that will feel good, focus better and look amazing. Deliver real results and exceptional horses to your customers.
"Trainer's Circle is a place where trainers can get together and learn from each other and not feel threatened or competitive. Our industry needs this; it's lacking in the horse world."